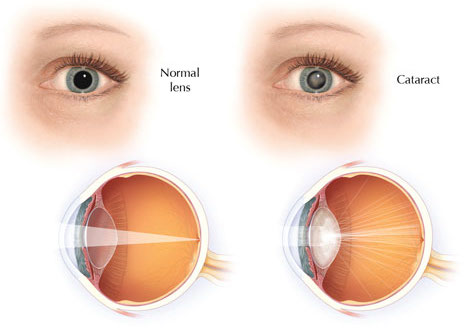 What is a cataract?
Cataracts occur when the natural lens of the eye becomes cloudy, causing things to look blurry, hazy, or less colorful.
Cataract Symptoms:
Blurry vision
Difficulty with night vision or glare from driving at night
Difficulty seeing street signs or TV captions
Monocular Double Vision (seeing two images out of one eye)
What causes cataracts?
Aging is the most common cause of cataracts and they typically develop slowly. The longer you live the more likely you will develop cataracts at some point in your life. Developing cataracts at a younger age can also occur, but it is less common.
Additional causes of cataracts:
Genetics, family history of having cataracts
Medical problems, most commonly diabetes
A previous eye injury, eye surgery, or radiation treatments on your upper body
Ultraviolet (UV) damage from overexposure to sunlight
Tip: Protecting your eyes from the sun's UV light rays by wearing sunglasses may slow down the development of cataracts.
How are cataracts treated?
Cataract surgery is a safe and effective procedure. The surgery involves replacing the cloudy natural lens with a clear artificial lens called an intraocular lens (IOL).  You should consider cataract surgery when the symptoms of cataracts keep you from doing your daily activities.