What is a comprehensive eye exam?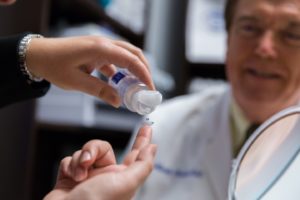 Comprehensive eye exams, also known as routine eye exams, are a preventative measure to the early diagnosis and treatment of eye and vision problems.
A comprehensive eye exam may include:
Discussing your overall health and vision history
Visual acuity test to check your near and distance vision
Evaluation of depth perception, color vision, eye muscle movements, peripheral vision, and pupil responses to light
Measuring the reflections of lights off the cornea (often used to measure the fit for contact lenses)
Refraction test to determine the proper lens you will need to give you the clearest vision
Dilating drops may be used during your appointment to enlarge your pupil so that the doctor may have a better look at the internal structures of the eye
Additional testing may be required at the request of your physician
Glass or contact lenses?
When scheduling your appointment, be sure to tell us if you are seeking glasses or contact lens.
A contact lens exam may require additional testing to ensure the correct fit of your contact lens.  Our staff will also demonstrate the proper technique to placing a contact in your eye and how to safely remove it.
We provide you with the convenience of ordering your glasses and contact lenses at the end of your appointment right here in our office! Our optical shop, located in the reception area of both office locations, offers a large variety of frames and lenses to best fit your needs. You can even bring in an outside prescription to our optical shop!
How often should I have a comprehensive eye exam?
Comprehensive eye exams are typically once a year, however this can vary greatly depending on the individual's age, race, history, and symptoms. Those with no vision problems or very low risk of developing eye diseases may only need to come once every couple of years. Please consult your doctor on the best plan for your routine eye exams.