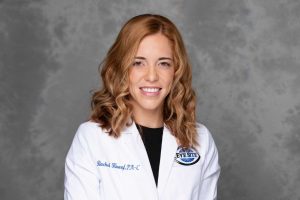 Rachel L. Knauf, PA-C
Certified Physician Assistant / Comprehensive Ophthalmology
Rachel Knauf is a certified physician assistant who became part of the team at Eye Site of Tampa Bay in 2022. She completed her undergraduate studies at the University of Florida with a major in Biology and a minor in Spanish studies. Prior to furthering her education, Rachel accumulated over 2,500 hours of hands-on patient care in both Emergency Medicine and Cardiology. She received her Master of Physician Assistant Studies at the University of Florida College of Medicine, the number one-ranked Physician Assistant Program in the state of Florida, and a Top 25 ranked program nationwide.
Rachel is certified by the National Commission on Certification of Physician Assistants and licensed by the Florida Board of Medicine. As a certified physician assistant, Rachel is qualified to diagnose and treat patients, prescribe medications, order diagnostic and laboratory testing, assist in surgery, perform in-office procedures, and much more.
Rachel has always had a passion for medicine, specifically Ophthalmology. Rachel also loves to give back to her community. She has traveled to Honduras annually since 14 years of age, bringing donated corneas from the United States to the underserved. During her undergraduate years, she also traveled to Central and South America for various medical mission trips. During PA school, Rachel volunteered at the Equal Access Eye Clinic; a free ophthalmology clinic in Gainesville. Rachel was on the Executive Board of the Surgery Club for Physician Assistants at the University of Florida. Her academic research for her master's thesis focused on breast cancer treatment options and prevention, as she is an advocate for Breast Cancer Research and Education.
Rachel is an accomplished musician, studying piano since age 2. She also enjoys sports, singing, playing guitar and the ukulele. She is an avid runner, skier, and you can often find her rollerblading on Bayshore Boulevard.
Rachel is welcoming new and established patients and looks forward to meeting new faces!