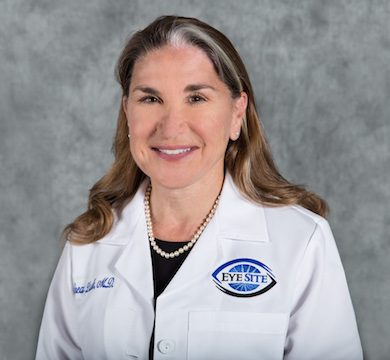 Andrea L. Lusk, M.D.
Medical Retina Specialist / Comprehensive Ophthalmology
Dr. Lusk, Medical Director of Eye Site of Tampa Bay, has been in private practice since 2000, and joined Eye Site of Tampa Bay in 2008. She is a fellowship-trained medical retina specialist who practices comprehensive ophthalmology with a special emphasis in retinal disorders, including macular degeneration, diabetes, and microvascular diseases of the eye.
Dr. Lusk did her undergraduate studies at Syracuse University and the State University of New York at Oneonta. She received her doctor of medicine from the Morehouse School of Medicine in Atlanta, where she became a member of the prestigious Alpha Omega Alpha National Honor Society. She completed her Transitional internship at Georgia Baptist Medical Center, Atlanta, and her residency in ophthalmology at the renowned University of Iowa Hospital & Clinics. She completed her fellowship at Gulf Coast Retina Center.
Dr. Lusk is a third generation eye care provider. Her paternal grandfather was an ophthalmologist, and her father is a practicing optometrist. Dr. Lusk's eye care career began prior to college and medical school.  She first worked in the family-owned eyeglass importing business, then began surfacing and edging lenses for eyeglasses, became an optician, and then served as administrator and office manager for two busy optometric offices.
Her professional interests include providing compassionate care for a predominately elderly population suffering from vascular and degenerative diseases of the retina.
Along with her daughters, Dr. Lusk regularly embarks on medical missions to Central American countries, most recently Honduras, where she has cared for thousands of patients. Importantly, she has also trained the local ophthalmologists to be able to appropriately manage patients in her area of expertise.
Dr. Lusk is active in her church and the mother of seven children. She enjoys boating, fishing, sports, and is an outdoor enthusiast.