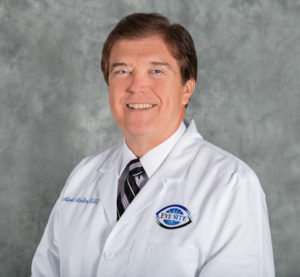 Mark A. Beiler, O.D.
Doctor of Optometry/ Comprehensive Eye Exams / Contacts / Glasses
Dr. Beiler has been in private practice in optometry since 1981, and he has been part of the Eye Site team since 2000. Dr. Beiler earned his Bachelor of Science in Zoology from the University of Wisconsin prior to pursuing his Doctor of Optometry from Southern College of Optometry in Tennessee. He completed further externship training at the Shelby County Mitchell Road Health Center in Memphis, Tennessee.
Dr. Beiler is certified by the Florida Board of Optometry and is able to diagnose and treat eye diseases and administer and prescribe topical therapeutic ocular pharmaceutical agents.  He performs routine optical services including eye exams, vision tests, and dispensing and prescribing glasses and contact lenses. He also fits specialty contact lenses including soft and rigid gas-permeable toric, bifocal, bitoric, keratoconus, and scleral lenses.
His professional interests include the diagnosis and implementation of treatment plans for patients presenting with ocular manifestations of underlying systemic diseases. He works closely with the patient's primary care physician to direct patients to the appropriate specialists for their specific needs.
Dr. Beiler holds professional affiliations with the Florida Optometric Association (FOA) and the Pinellas Optometric Association (POA). He also was a charter member of the Contact Lens & Cornea Section of the American Optometric Association (AOA).
In his private time, Dr. Beiler is a Deacon of the North Dunedin Baptist Church and an active participant in its Men's Handyman Ministry. He enjoys working on classic cars and spending time with his family.